2021 Manitoba 55+ Games have gone VIRTUAL & have been EXTENDED to August 31!
The Manitoba 55+ Virtual Games: June 14 – August 31, 2021! You can sign-up at any time to participate!
Are you just hearing about the MB 55+ Virtual Games? You are not too late – You can sign-up any time to participate during the Games!
EXCITING UPDATE! To encourage and promote participation and engagement, the Manitoba 55+ Virtual Games have been extended to August 31st! Participants can enjoy a full summer filled with activities, games and crafts.
To Participate: Register. Track. Submit. When completed, be sure to send us your activity tracker along with any photo or story you'd like to share to be eligible to win some great prizes! Do as little or as much as you like and sign up at any time to participate. Join many other Manitobans, to connect virtually in the 2021 MB 55+ Games – it's simple, free and FUN!
Are you participating in other activities such as kayaking, gardening, disc golf, etc. – mark them down on your activity tracker. Even though these are not core 'Manitoba 55+ Games' events, they are great physical activities – get active, be active, and stay active throughout the summer months. (The core Games Events have been expanded to include other activities that can be done safely, abiding by current public health orders.) Do your thing, your way, all summer long!
When: June 14 – August 31, 2021. You have the entire summer to participate!
Where: Close at home, safely in your community with the people in your 'bubble.'
Registration is FREE: Registration is required to be eligible for prizes
Choose an Event or Activity:
*Walk or Run at Your Own Pace * Cycle at Your Own Pace *Nordic Pole Walk at Your Own Pace *9 Hole Golf *18 Hole Golf *Bocce Ball *Horseshoes *Racket Sports: *Pickleball * Badminton * Tennis *Cribbage *Whist * Scrabble *Arts & Crafts
View or download Manitoba 55+ Virtual Games Information: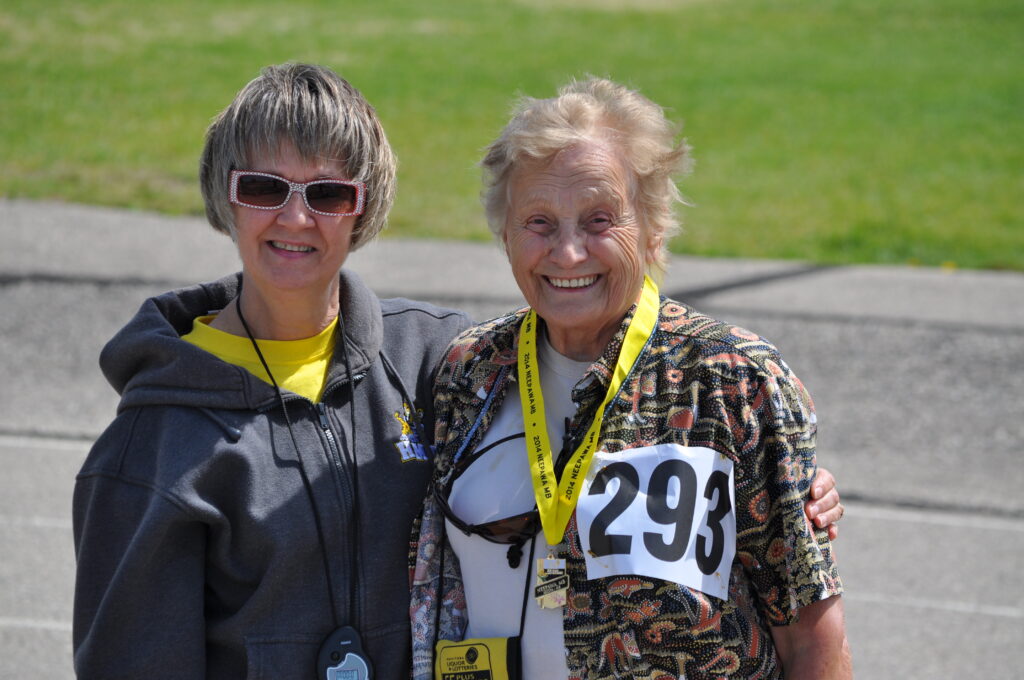 About the Games:
Since 1983, the Manitoba Society of Seniors (MSOS) had proudly hosted the annual 55+ Games in a different community in Manitoba each year. In 2012, the torch and spirit of the Games was placed in the capable hands of the Active Living Coalition for Older Adults in Manitoba (ALCOA-MB) – now Active Aging in Manitoba (AAIM). Over 25 age-friendly events will attract more than 1000 athletes, 300 volunteers and many more spectators to 3 days of fun. If you have never been, this is one celebration you will not want to miss!
The Games are the largest 55+ annual multi-sport event in Manitoba, breaking the common stereotype that seniors don't stay active into their 60s, 70s and 80s. In fact, the oldest male and female athletes are both well over 90 years old. Many other participants have been bit by the "Games bug" and continue to visit the Games every year no matter where the event is held.
Events range from card games to scrabble, snooker, floor curling/shuffleboard, track, swimming and slo-pitch. Slo-pitch is the largest event at the Games, drawing close to 15 teams every year. The 3 days of activities makes from some fun and enjoyable competition for participants and spectators alike!
The Games, while emphasizing active, recreational activities, are also about providing a social and cultural atmosphere through entertainment and social events. A Variety Concert is held on the Tuesday night and an Athletes' Banquet allows the participants a chance to mingle on Wednesday night. The banquet includes a dinner, dance and speeches by local dignitaries. Past banquet speakers included a special appearance from Lloyd Robertson.
If you are interested in learning more about this exciting multi-sport event in please continue to browse our games website. Participants, volunteers, spectators and sponsors are all needed to make the Games a success. We look forward to seeing you there!
If you have any questions about the Manitoba 55+ Games, please feel free to contact the Games office at 204-261-9257 or email manitoba55plusgames@gmail.com.