Selkirk MB will host the next Manitoba 55+ Games, June 16-18, 2020.
Since 1983, the Manitoba Society of Seniors (MSOS) had proudly hosted the annual 55+ Games in a different community in Manitoba each year. In 2012, the torch and spirit of the Games was placed in the capable hands of the Active Living Coalition for Older Adults in Manitoba (ALCOA-MB) – now Active Aging in Manitoba (AAIM). Over 25 age-friendly events will attract more than 1000 athletes, 300 volunteers and many more spectators to 3 days of fun. If you have never been, this is one celebration you will not want to miss!
The Games are the largest 55+ annual multi-sport event in Manitoba, breaking the common stereotype that seniors don't stay active into their 60s, 70s and 80s. In fact, the oldest male and female athletes are both well over 90 years old. Many other participants have been bit by the "Games bug" and continue to visit the Games every year no matter where the event is held.
Events range from card games to scrabble, snooker, floor curling/shuffleboard, track, swimming and slo-pitch. Slo-pitch is the largest event at the Games, drawing close to 15 teams every year. The 3 days of activities makes from some fun and enjoyable competition for participants and spectators alike!
The Games, while emphasizing active, recreational activities, are also about providing a social and cultural atmosphere through entertainment and social events. A Variety Concert is held on the Tuesday night and an Athletes' Banquet allows the participants a chance to mingle on Wednesday night. The banquet includes a dinner, dance and speeches by local dignitaries. Past banquet speakers included a special appearance from Lloyd Robertson.
If you are interested in learning more about this exciting multi-sport event in please continue to browse our games website. Participants, volunteers, spectators and sponsors are all needed to make the Games a success. We look forward to seeing you there!
If any older adults in your establishment wish to register for an event, they can fill out a registration form and send it to our office. Registration will begin in March and forms can be found on our website or by calling the Games office at 204-261-9257.
If you have any questions about the Manitoba 55+ Games, please feel free to contact the Games office at 204-261-9257 or email manitoba55plusgames@gmail.com.
GLENBORO 55+ GAMES COMMITTEE receives the AWARD OF MERIT
Recreation Connections Manitoba proudly recognizes the outstanding contributions of individuals, groups and communities who have shown leadership and innovation in advancing the recreation sector.
The Award of Merit recognizes a community group, organization or municipality for excellence and innovation in the provision of recreation, therapeutic recreation and/or parks programs and services at the community level.
The Glenboro 55 Plus Games Committee was created to host the 2018 55+ Manitoba Games multi-sport competition in the communities of Glenboro, Carberry, and Wawanesa. The Glenboro Games Committee was able to host a very successful Games, achieving one of the highest profits in Games history. With a population of 650 people, the Town of Glenboro faced many logistical challenges when hosting the 850 Games participants. A strong community wide effort enabled the committee to overcome barriers regarding accommodations, food, and venues. The legacy established by the hosting of the Games included increased volunteerism, enhanced tourism profile, facility upgrades, the creation of recreation programs, and heightened community spirit. The 'little town that could' proved that a small town can achieve big things.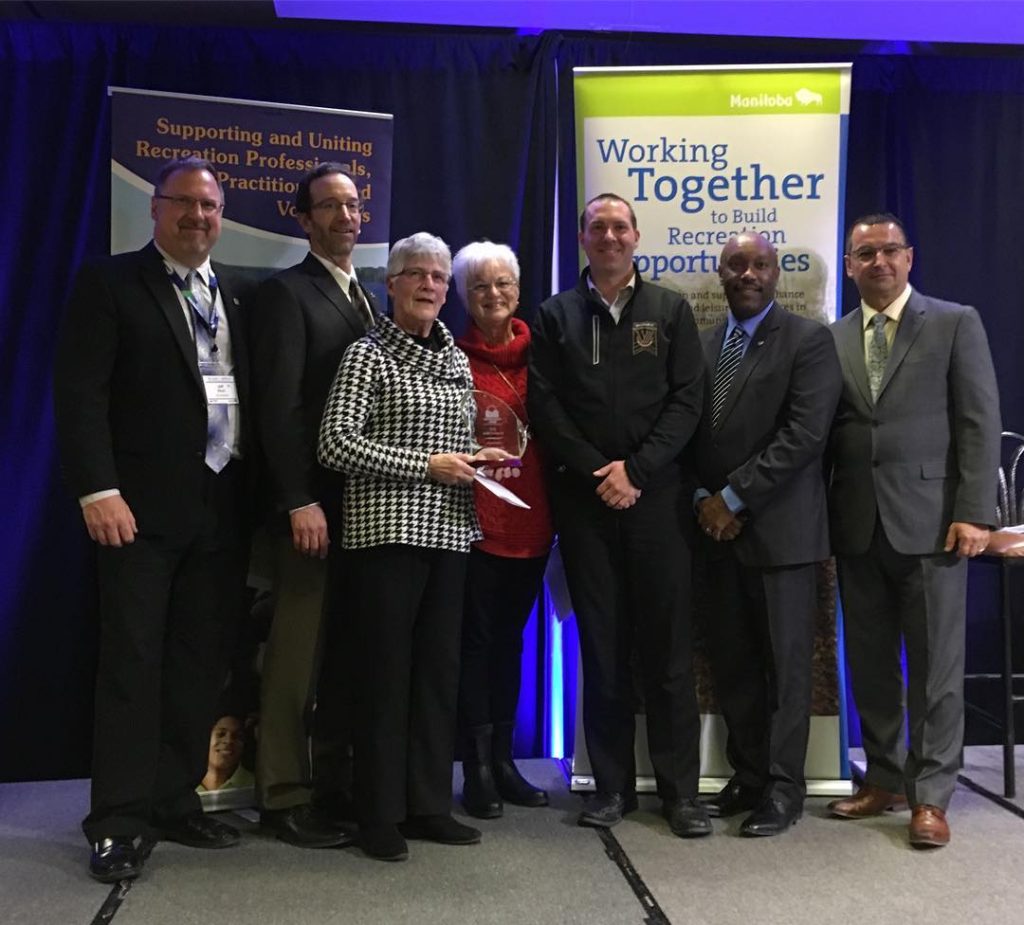 Qualify in Selkirk at the Manitoba 55+ Games (June 16-18 2020) to represent Team Manitoba at the 2020 Canada 55+ Games in Kamloops, BC!