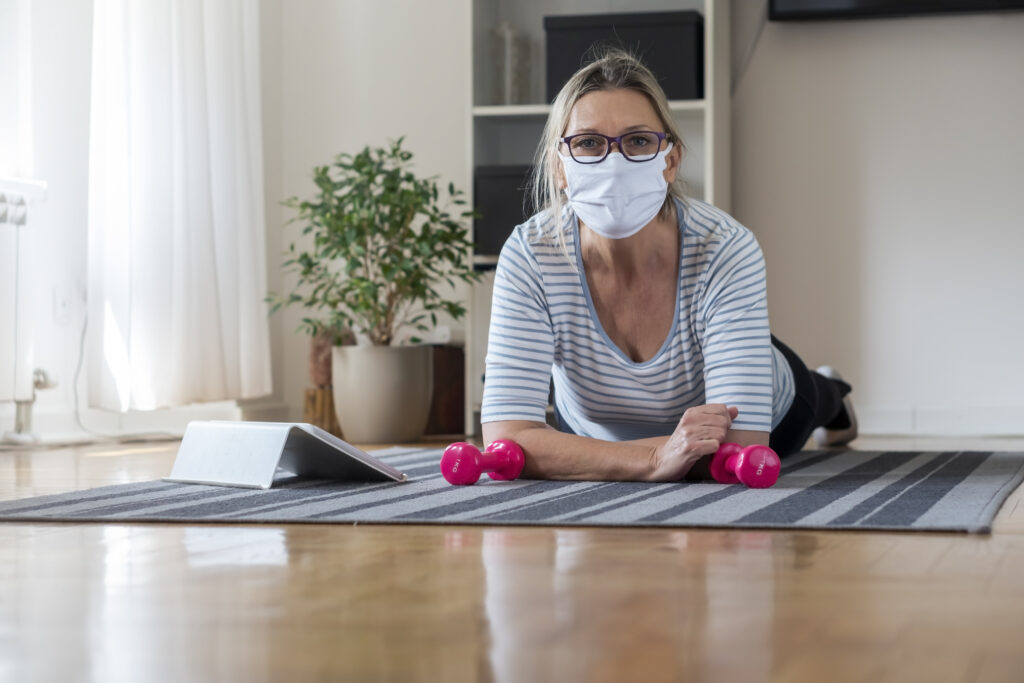 Exercise Control Over Your Situation:
Follow recommendations from Canadian Public Health Agency. www.canada.ca/en/public-health.html
Make a list of activities that you can do at home or outside. Try to include something new and perhaps rekindle a past interest or hobby.
Keep positive – talk with others about what you are doing, together brainstorm ideas. Share funny stories, memes and laugh.
Make a plan/schedule to include the activities you have listed. If you identify what you will do, and when you will do it, you will be more likely to actually do it!
Have face to face contact keeping 6 feet or 2 meters apart. Go for a walk with others. Organize a street or hallway "coffee party" by setting a time to meet and bring your own refreshments. People can bring a chair into the hallway or outside. It is also a good opportunity for a friendly hello.
Be self-aware. Are you experiencing such distress that it is affecting your ability to function and take care of yourself. If so, reach out for help to family, friends, health care providers.
Exercise, preferably outdoors and always with social distancing in mind. Here are some guidelines and suggestions for how to get started.
Exercise Guidelines
If you are inactive now and have health conditions you may want to talk to your health care provider first.
1) Start slow: Start with short times and increase time gradually. As exercises become easier you can increase the difficulty.
2) Use Support: Have a counter, table or sturdy chair available for balance. Gradually decrease the amount of support you use as your balance and confidence improves. Consider using poles, canes, walkers to aid walking and moving.
3) Wear Appropriate Footwear: Supportive shoes/boots with a low wide heel and non-slip soles are important. Be cautious of ice at this time of year. Wear grippers to aid outdoor walking.
4) Listen to Your Body: If you feel pain or if you feel unsteady stop. Do exercises that feel safe and comfortable for you. Pace yourself and rest when needed.
5) Keep Track of Your Progress: It takes 21 times to make a habit and it takes time to build up strength, endurance and confidence. Congratulate yourself on being active.
Get Started Today. There are many resources you can access through the internet.
Turn your room into a gym:
Get posters that will guide you through a work-out. Use them in your home or put them up around the building creating exercise stations.
Download the older exercise DVD for a full class. Don't worry you can do it at your own pace.
Practice balance exercises to prevent falls and be more confident in your movement. Check out the Falls Prevention Staying On Your Feet, Home Balance & Strength Exercises.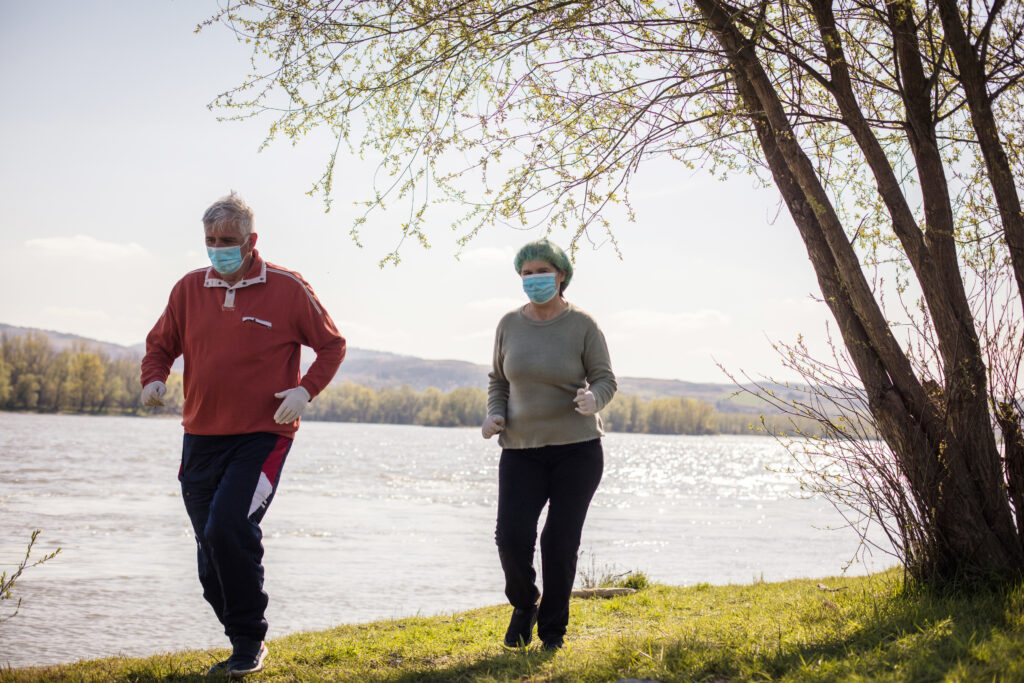 Walking, Moving and Connection in a Time of Social Distance
We know that it's been a trying time out there for all of you. We are grateful to still have one of the most important things available to us as a tool for navigating our physical, emotional, and communal health in the face of our current situation – walking and moving (at safe social distances of at least 6 feet). Walking and safe places to walk – we need them now more than ever. As parks close, using our sidewalks is one of the few ways we can continue to be active and manage stress. We are delighted by the stories that we are reading about how families and communities are connecting during this time of social distancing through walking and moving, finding creative and safe ways to take back their streets. The support continues for the walking movement across the country, from the Rainbow Walks that have popped up in various neighborhoods, to the collective realization that walking and other forms of active transportation may be one of the safest and healthiest modes of travel for yet another reason. At the same time, we recognize that barriers to walking and moving are highlighted in these challenging moments. Too many communities lack access to safe and inclusive conditions that prioritize people who walk. We are still working tirelessly to support the work that changes this. (Source: America Walks)
Read more on why we think social distance walks are an essential activity right now and borrow from our list of ideas and resources for how to navigate self-care through walking:
Exercise Programs Available through Covid-19
Parkinson Canada is striving to meet the needs of people living with Parkinson's who are experiencing self-isolation or under quarantine. Starting Monday, April 13, Parkinson Canada's Lance Letain will be LIVE three times per week on the Parkinson Canada – Manitoba Facebook page (www.facebook.com/parkinsoncanadamb) leading a 50-minute exercise program followed by a 10-minute Q&A session.
WellSpring: Being physically active at a distance – Centre for Active Living (Alberta)
YMCA Health & Fitness – On-Demand Videos: https://ymca360.org/on-demand (older adult section)
The Perley and Rideau Active Seniors. Here you will find an assortment of resource articles and videos for various activities.
Archwood 55 Plus – Some fun resources available online to stay active:A 45-minute workout of older adults consisting of warm-up, cardio, strength & balance, cool down & stretch

Another fun 30-minute cardio workout
8 Week Fitness Program for Seniors. A video series to stay fit and active with instruction on how to do each exercise correctly.
Click here to see home Balance & Strength Exercises
Click here to see Therapeutic Exercises for Osteoarthritis of the Hip
Click here to see Therapeutic Exercises for Osteoarthritis of the Knee
Connect through Mental Health Resources:
Manitoba Shared Health – Guidance and tools to support mental wellness.
Anxiety Disorder Association Manitoba
Anxiety Support Line: 204-925-0040
Canadian Mental Health Association, Winnipeg/Manitoba
Aulneau Renewal Centre – Are facilitating FREE wellness checks to help address the anxiety people may have due to COVID – 19. Via a phone call, a counselor will be able to provide information on coping tools, strategies and resources during this difficult time. This is not a counselling session, but rather a check-in to assist in reducing anxiety. For wellness checks: Ph:(204) 987-7090
Get help or help others through Community Support:
A safe way to match volunteers and community support to those with needs for goods and services such as groceries, medication, snow-clearing, and various other necessities.
Amintro – Age 50+ Online Social
Amintro is encouraging the community to do their part and check in on older adults in the neighbourhood. With a printable card that can be left in the mailbox, the receiver is provided contact information and a list of options for help that is available to them (grocery pick up, a friendly phone call, posting urgent mail, etc.) all with no in-person contact to minimize their exposure to those who may have the virus, yet letting them know they are not alone.
University of Manitoba – Centre on Aging – An excellent website filled with various community support lists and links, including Resources for Home, Community Resources and social resources.
Senior Centre Without Walls – Daily Hello Program: Offering safe social connections in the face of COVID – 19. The Daily Hello is a friendly check-in to see how participants are doing. Participants may be referred to agency Social Workers as required. How To Call In: Step 1 – Call (204)515-1147 Step 2 – When prompted, enter access code 731967548
Free Educational and Recreational programs:
Senior Centre Without Walls through A & O: Support Services for Older Adults offers free educational and recreational programs over the phone. The program reaches out to socially isolated older adults 55+ living in Manitoba. Individuals and groups are welcome. There is no cost to register. We will call participants and join them into the programs.