WELCOME
Welcome to Active Aging in Manitoba. We are a not-for-profit organization, dedicated to the promotion of active aging opportunities for all older Manitobans to enhance their health, mobility and continuing participation in their community. We are also the provincial organization responsible for the planning and implementation of the annual Manitoba 55+ Games.
Our office is located inside the Wellness Institute at Seven Oaks General Hospital, 1075 Leila Avenue in Winnipeg.
Please note: The Wellness Institute is closed to members and the public until further notice.
NEWS
Active Aging in Manitoba (AAIM) is aware that the Coronavirus (COVID-19) is present in Manitoba and we want to ensure that our staff, volunteers and older adults we support are at minimal risk.
As the situation continues to evolve, AAIM will be monitoring the situation. AAIM will use the information available from Manitoba Health, Seniors and Active Living; the Public Health Agency of Canada and the World Health Organization to guide our decisions regarding our programming.
At this time, the Public Health Agency of Canada (PHAC) has assessed the public health risk associated with COVID-19 as low for the general population in Canada but this could change rapidly.
There is an increased risk for individuals:
aged 65 and over
with compromised immune systems
with underlying medical conditions
If you are concerned about symptoms that you or a loved one may be experiencing, please contact Health Links at 204-788-8200 or toll-free 1-888-315-9257 to speak to a Health Links registered nurse.
Keep up to date with evolving public health recommendations from MB Health: www.gov.mb.ca/health/coronavirus/
UPDATES
**The Wellness Institute will be officially closed to the members and the public, effective 11:00 p.m. Tuesday, March 17th, 2020 (until further notice).
**AAIM is encouraging all peer volunteer leaders to suspend their group exercise efforts until further notice. However, we are also encouraging them to creatively maintain their social connections by checking regularly with their social networks via telephone, social media, etc.
2020 Manitoba 55+ Games Cancelled due to COVID-19
After much consideration, and as a precautionary measure, AAIM and the MB 55+ Games have decided to cancel the 2020 MB 55+ Games in response to the evolving public health situation with coronavirus (COVID-19).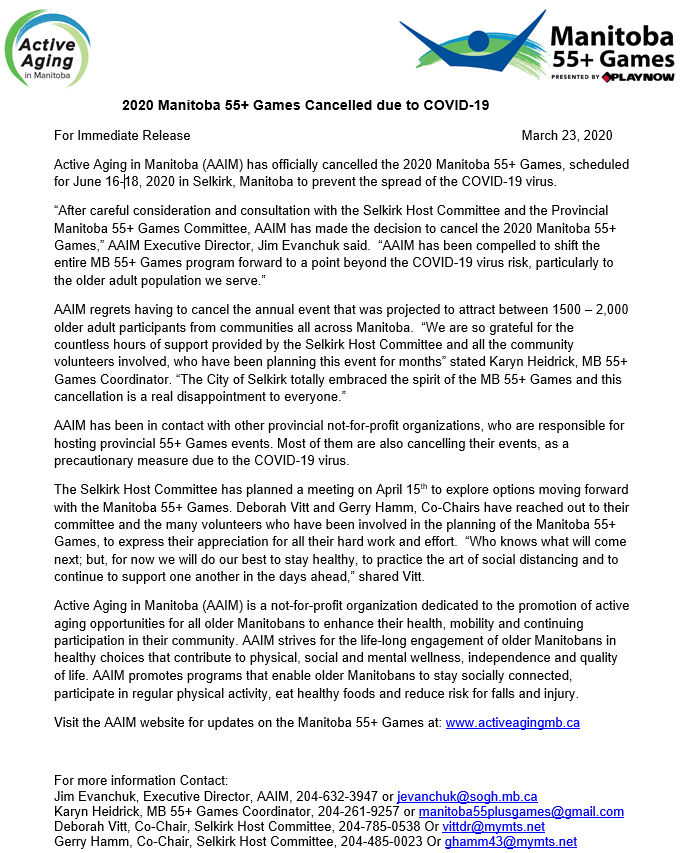 Manitoba 55+ Games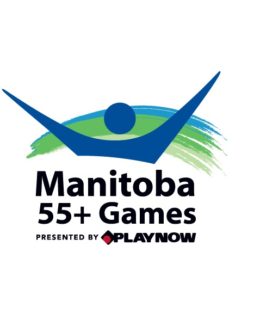 Webinars
Active Aging in Manitoba (AAIM) is striving to encourage healthy aging choices and behaviours that contribute to optimal health outcomes....
More details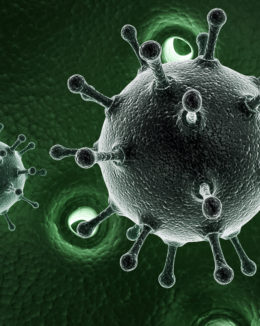 Events
Events for April 2020
Events Search and Views Navigation
There were no results found.
Calendar of Events
Calendar of Events

| Sunday | Monday | Tuesday | Wednesday | Thursday | Friday | Saturday |
| --- | --- | --- | --- | --- | --- | --- |
| 29 | 30 | 31 | 1 | 2 | 3 | 4 |
| 5 | 6 | 7 | 8 | 9 | 10 | 11 |
| 12 | 13 | 14 | 15 | 16 | 17 | 18 |
| 19 | 20 | 21 | 22 | 23 | 24 | 25 |
| 26 | 27 | 28 | 29 | 30 | 1 | 2 |